It doesn't matter whether you are training a team to dive under the ocean or to duplicate sales with your direct sales company. You need to have a consistent and stable way to connect with each one of your team members. Many people use Facebook. Perhaps you have set up a FB group to post training videos and how-to documents for your team. What if suddenly your group disappears? All of the training modules you had set up for your team – vanished! It happens – and here are five reasons why Facebook is a terrible way to train your team.
The Appearance of Fraud and Deception
Remember, FB decides. The policy rationale for pulling groups sounds reasonable. If people are being scammed, let's fix them. Let's zap their group and make it all disappear. But what about you? You're an honest business owner – just seeking a place to use as a platform to train your team. Facebook spells it out: if they see what appears to be material set on taking money, property, or legal rights from those in the group, the content will be removed.

What if the content is your team training? You weren't doing anything fraudulent. Even so, your content has vanished and so has access to your group. Then what?
Must Comply with Standards and Commerce Policies
Facebook makes it clear – "Commerce listings must not violate our Community Standards." The list is long, folks. Currently, there are 24 items on the list of prohibited content, ranging from Prescription Products, Drugs, and Drug Paraphernalia — to — Jobs. There's a lot of gray area where Facebook may deem a product or a service to be in violation. What happens? The content suddenly vanishes.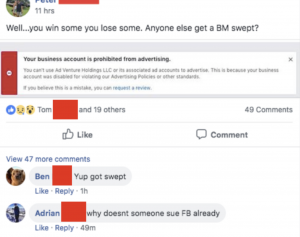 If you feel that is a mistake, you can take the steps to appeal the action – but that takes time. Your team staggers. Communication lines are broken. Then what?
Spam Detected
Again, remember – it's their perception, not yours. They want to avoid a negative Facebook user experience; you want to send messages to your team. The two may not jive. The last two words of their policy rationale on this one are "commercial gain." Mind you, when your team is in the group going through the training you've set up, they are surrounded by Facebook Ads. Hmm. Some FB users feel as though those ads are quite spammy. So maybe it just depends on who is gaining.
The "Do not" list includes activities that are underhanded, but it all depends on interpretation. Even the number of groups created becomes suspect – instead of starting 10 groups, you may need to whittle it down to 5. You are losing valuable exposure and the way to conduct various different types of training. Then what?
Inauthentic Behavior
It makes sense. Facebook wants to create a space where users can feel safe, trusting the interactions they have with people in a shared group. Once again, though, it all rests on interpretation. If someone in your group, for instance, becomes disillusioned with how his or her business is going, sabotage efforts could turn a complaint to Facebook into an investigation.
You know how those things go. Just the fact that your group has become suspect at all for any reason is enough for others to become suspicious. Your name and claim versus accusation and insinuation. Just not fair! Then what?
Promoting Ingestible Supplements
This one was saved for last with no wonder. It's absolutely CRAZY! If you don't eat a protein bar every now and again to boost your energy, surely you know at least one person who does. You can't advertise this product on Facebook.
So, if your business sells any supplements such as protein powder or any food or drinks that make health claims or human growth hormones, or even vitamins – expect your time on Facebook to be limited. Listings on Facebook must not promote the buying or selling of these. What if one of these listed is a teeny tiny part of your business inventory? Too bad. Ta-ta. Then what?
Here's What!
You may have noticed that every example above ended with "Then what?" Well, here's WHAT. There is somewhere you can go to train your team where you won't get the boot. We've heard you. We know about FB groups that have vanished in the night. We've designed this platform for folks like you who are frustrated by the annoyances and distractions that Facebook brings to your training. We know what those are – been there, done that. We used our experience to create exactly what you need to train your folks and to run a successful business.
That's why we designed a training platform for good, honest folks like you who just want a consistent and stable way to train their team. A place where you can post various modules to get your team in peak shape, and your training will stay put. Not only that, but your team members will get push notifications any time you add something to your group, so no one will miss any updates.
Learn more about Business Glu and how efficiently and effectively you can train your team.  Using this platform, you can create your team's training app. You can provide your team unlimited training and send out push notifications with no cost to your team.  
Check out Business Glu and see what we mean. We know what you need. Help support and scale your team by creating your team training app. With Business Glu, you'll have unlimited training and direct communications with push notifications at no cost for your team.